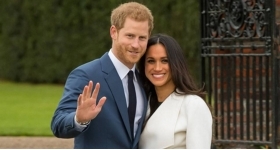 Royal Wedding Flags and Bunting
Listed Under: News & Blog
Royal Wedding May 2018
Royal Wedding Flags and bunting buy today!
This year is marked by a colourful event that sends many people into a frenzy. The significant date is close – the Royal Wedding of Prince Harry and Meghan Markle on 19th of May is approaching fast and more and more people are planning to join in on the celebrations and parties that will follow the official event at St George's Chapel, Windsor.
Dresses and outfits are being chosen and sewn, groups of people organise together for picnics and parties, decorations are being purchased – the Royal Wedding brings together the whole nation and people all over the world.
As the 2018 Royal Wedding details are being revealed with the specifics of the number of guests, type of cake, flowers, music, reception and decorations, other arrangements are moving along as people of the nation and tourists are thinking through all the possible ideas of various decorations of their own. Most common ones are flags and bunting to help make this big day extra special for everybody. There are so many ways to be part of the Royal Wedding events and share the joy and happiness for Harry and Meghan! To appreciate their holy union and be a part of all the magnificent parties and other events you can decorate your own home with flags and bunting.
At South Coast Flagpoles we understand the significance of the Royal Wedding celebrations and we are happy to supply all the necessary flags, bunting and residential or telescopic flagpoles you might need for the special occasion. We certainly got ready for the Royal Wedding and we are able to supply everyone with Union flags (Click Here to find out more) and Royal Wedding flags (Click Here for more information). We also have sewn and printed USA flags to complement Meghan Markle – Click Here to see our offer. If you wish to set up any flag you purchase at your home – Click Here to see our selection of available flagpoles. Hand waving display poles will definitely come in handy at the Royal Couple's carriage ride – just Click Here to make an order. Also check out the bunting we have available for purchase Here. If you are one of those people who wants to stand out from the crowd with something personalised and, therefore, special – we can make a custom flag or bunting just for you – Click Here to find out more about customised flags and bunting.
So get ready, stack up on the decorations and plan carefully to fully enjoy the atmosphere of the upcoming special day and celebrate this Royal union!