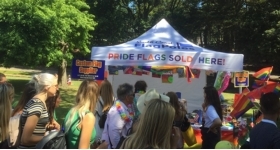 Fly High With Pride
Listed Under: News & Blog
Fly High With Pride
Every Festival needs to be marked by Flags and Decorations!
Gay Pride has grown since the 1970s to become one of the largest Festivals in the UK and other similar events are held all across the UK and World to promote equal rights and diversity.
To support such events and be part of them is to be proud of who you are and there is no better way to celebrate than to smile wide and wave high a flag of your colours to mark your place among the LGBT Community.
At South Coast Flagpoles we supply a wide number different merchandise to help support various Events and Parades. We have everything from Pride Flags to highlight any Pride event with vibrant colours, to bunting, party packs for decoration and festival flagpole kits. To see our full range of available flags or make an order for the upcoming events check HERE
We sell many more products including Custom Pride Flags, bunting, hand wavers, wind socks, massive Pride Street Parade Banners to Giant Deck Chairs, plus much more.
We have attended some of these events along the South Coast and this coming weekend we shall be at the Ryde, Isle of Wight Pride Event, which is celebrating its second year.
South coast Flagpoles supplied the Royal Esplanade Hotel with their flagpole and Pride Flag, when Isle of Wight Pride held their very first Pride Event at Ryde in July 2017
We stock Rainbow Flags in all sizes as well as Bunting and Hand Wavers. We even have a Huge Rainbow Street Parade Flag measuring 30 Meter x 6 Meters ! We have supplied a Giant Street Flag like this for Foyl Pride in Londonderry (click HERE to check it out!). What is even better is that we also have a large size Street Parade Flag available to hire for all future Pride Parades and Events. Contact us for more information.
And we have more than just the traditional Rainbow Gay Pride Flag – the LGBT community has many different subcultures, each with its own type of flag. And each of these flags carry meaning for every colour displayed on it:
-LGBT (Lesbian, Gay, Bisexual, Transgender) Flag
The rainbow colours symbolize plurality and love of life, and there are two varieties of this recognisable flag:
-The six-colour version that has been popular throughout the years with Red for Life, Orange for Healing, Yellow for Sunlight, Green for Calmness, Blue for Harmony/Art, Lilac for the Spirit
and
-The Original Baker's First LGBT Flag with eight colours, each stripe carrying its own significance: Pink for Sexuality, Red for Life, Orange for Healing, Yellow for sunlight, Green for Nature, Turquoise for Magic, Blue for Peace/Serenity and Violet for Spirit.
-Asexual Flag
Chosen in 2010, The Black Stripe represents Asexuality, the Grey Stripe representing the grey-area between sexual attraction with emotional connection and without sexual attraction, the White Stripe Sexuality, and the Purple Stripe Community.
-Bisexual Pride Flag
Disigned in 1998, The Pink colour represents sexual attraction to the same sex only (gay and lesbian). The Blue represents sexual attraction to the opposite sex only (straight) and the overlap colour of Purple represents sexual attraction to both sexes (bi).
-Genderqueer
Created in 1999, The Lavender represents androgyny or simply queerness, White represents agender identity, and Green representing those whose identities which are defined outside the binary
-Intersex Pride
The Intersex Pride Flag was created by Organisation Intersex International Australia in July 2013 to create a flag "that is not derivative, but is yet firmly grounded in meaning". The organisation aimed to create a symbol without gendered pink and blue colours. It describes Yellow and Purple as the "Hermaphrodite" colours.
-Lesbian Pride (Labrys)
The Lesbian Pride Flag, created in 1999, involves a labrys (an axe with a double head) on a Black Triangle with a Lavender Background. The labrys is a symbol of various things, and has been used as a lesbian symbol since the 1970s. The black triangle refers to the idea that, as the United States Holocaust Memorial Museum claims, many women during Nazi rule were arrested and imprisoned for "asocial" behaviour, a label which was applied to women who did not conform to the ideal Nazi image of a woman – cooking, cleaning, kitchen work, child raising, and passivity – and these women were labelled with a Black Triangle.
-Transgender Pride (New)
In 2014 the Transgender (New) Flag (also known as the Kaleidoscope) was created. The stripes at the top and bottom are Light Blue, the traditional colour for baby boys. The stripes next to them are Pink, the traditional colour for baby girls. The stripe in the middle is white, for those who are Intersex, Transitioning or consider themselves having a Neutral or Undefined Gender. The pattern is such that no matter which way you fly it, it is always correct, signifying us finding correctness in our lives.
-Transgender Pride (Old)
The original flag designed in 1999. The pink and the blue represent Male and Female. The 3 Purple Stripes represent the diversity of the transgender community as well as genders other than male and female.
-Pansexual Pride
Used by Lesbian, Gay and Bi-Sexuals. The Pink band symbolizes Women, the Blue, Men and the yellow, those of a Non-Binary Gender, such as Agender, Bigender or Genderfluid.
Of course, these are not all the flags there are in stock (or will be!), so if there is something you need and cannot find on our website – we supply Custom Made Flags, so feel free to contact us for more information. Maybe with us you will be able to design and distribute a brand new flag to represent your ideas!