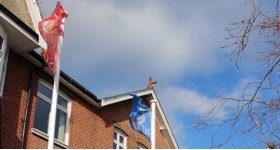 Raising the Flags At Trafalgar School Hilsea
Listed Under: News & Blog
South Coast Flagpoles were contacted by Trafalgar School, Hilsea for installation of flagpoles and supply of flags.

An initial site survey was carried out to determine the positioning of the flagpoles, we then re-visited shortly after with the four 6 metre fibre glass flagpoles and external halyards for installation. (Our turn around times from site survey to installation is relatively quick.)

We supplied and made the school flags based on the schools designs, which were chosen by the students of Trafalgar School via 'Inter-House' competition, each of which carrying a different emblem of a design which they provided for each individual house group within the school.

Four 5'x'3 Polyester Flags were supplied for hanging from the schools new flagpoles at the front of the building and a further four 8'x5' Polyester flags were supplied for inside the school for suspension from the ceiling in the school hall (see picture Below).
These flags enabled the pupils to celebrate and stage their Inter-House competitions and assemblies. And by having these flags and their designs on display, signifies the attachment to the Naval History of the School.

We also make Hand Bespoke Embroidered Flags and can supply any type of Wall Mount to Ground Mounted Flagpoles for inside and outside use .
News Article click Here