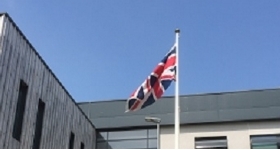 Relocating Ventnor Free School's Flagpole On The Isle of Wight
Listed Under: News & Blog
Relocating Ventnor Free School's Flagpole
In 2014 we were asked by The Island Free School when the site was at its original location in Lower Ventnor, to install a 6 meter glass fibre flagpole on the site. At this time they told us that a brand new state of the art school was being built at a new location in Upper Ventnor and that the flagpole, one day, would need to be moved to there.

Four years later, we were in contact with the school to relocate the flagpole on to the new site and over the last three weeks this has occurred, starting with the new hinged base plate foundations.

The 6 meter glass fibre flagpole has now been relocated with hinged base plate, new halyard and clips, washed and serviced. And now stands proud at the main entrance to the schoo'ls new site in time for the summer season, proudly flying their Union Flag.

The original union flag we first supplied to the school has been framed and is now displayed with pride in the main reception area of the new school for all to see.

---
As well as the installation of new flagpoles, South Coast Flagpoles can offer the re-location of and full service of your existing flagpole with a new halyard, counter weight, internal system, ground collar, to re-vamp your tired looking flagpole.
South Coast Flagpoles based on the Isle of Wight and in Hampshire serving the entire South Coast of the UK with Flagpoles and maintenance.